Introduction
Even more fundamentally than establishing linkages between community agencies and school sites, school and community policy must start to reflect the reality that there are three primary and essential components to be addressed in systemic reform and restructuring of schools and community agencies.
As illustrated below, these are the instructional, enabling, and management components.
Three Components to be Addressed in Systemic Reform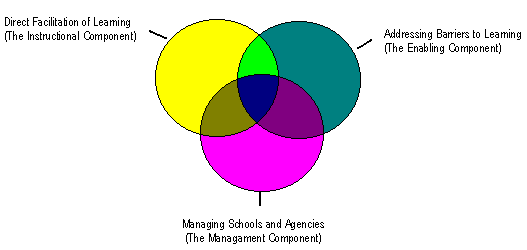 Central to an effective enabling component is activity to address health and psychosocial problems.
School-owned enabling activity -- such as pupil services and the multi-components of a school health program -- must be coordinated and integrated not only with each other but with community-owned resources.
And the overlapping enabling, instructional, and management components must be carried out as a cohesive whole if we are to effectively address the many barriers interfering with the appropriate and effective functioning of students.
Emergence of a cohesive Enabling Component requires (1) weaving together what is available at a school, (2) expanding what exists by integrating school and community resources, and (3) enhancing access to community programs and services by linking as many as feasible to programs at school sites in ways that can serve a complex of schools.
Based on analyses of what schools and communities already are doing, enabling activity can be clustered into six program areas. These encompass interventions to

- work with teachers to enhance classroom based efforts to enable learning
- provide prescribed student and family assistance
- respond to and prevent crises
- support student and family transitions
- mobilize parent/home involvement in schooling and health promotion
- outreach to develop greater community involvement and support (including recruitment of volunteers).

A brief sketch of each of these programmatic areas follows.
Return to

Classroom Focused Enabling
When a teacher encounters difficulty in working with a youngster, the first step is to see whether there are ways to address the problem within the regular classroom and perhaps with added home involvement. Thus the emphasis here is on enhancing classroom-based efforts to enable learning by increasing teacher effectiveness for preventing and handling problems in the classroom. This is accomplished by providing personalized help to increase a teacher's array of strategies for working with a wider range of individual differences. For example, teachers learn to use peer tutoring and volunteers to enhance social and academic support and to increase their range of accommodative strategies and their ability to teach students compensatory strategies; and as appropriate, they are provided support in the classroom from resource and itinerant teachers and counselors. Two aims of all this are to increase mainstreaming efficacy and reduce the need for special services.
Work in this area requires
programs for personalized professional development (for teachers and aides)

systems to expand resources

programs for temporary out of class help

programs to develop aides, volunteers, and any others who help in classrooms or who work with teachers to enable learning.

Through classroom-focused enabling programs, teachers are better prepared to address similar problems when they arise in the future.

(The classroom curriculum, of course, already should encompass a focus on fostering socio-emotional and physical development. Such a focus is seen as an essential element in preventing learning, behavior, emotional, and health problems.)

Return to

Student and Family Assistance
Some problems cannot be handled without special interventions, thus the need for student and family assistance. The emphasis here is on providing special services in a personalized way to assist with a broad-range of needs. To begin with, available social, physical and mental health programs in the school and community are used. As community outreach brings in other resources, they are linked to existing activity in an integrated manner. Special attention is paid to enhancing systems for triage, case and resource management, direct services to meet immediate needs, and referral for special services and special education resources and placements as appropriate. Ongoing efforts are made to expand and enhance resources. As major outcomes, the intent is to ensure special assistance is provided when necessary and appropriate and that such assistance is effective.
Work in this area requires
programs designed to support classroom focused enabling -- with specific emphasis on reducing the need for teachers to seek special programs and services

a stakeholder information program to clarify available assistance and how to access help

systems to facilitate requests for assistance and strategies to evaluate the requests (including use of strategies designed to reduce the need for special intervention)

a programmatic approach for handling referrals

programs providing direct service

programmatic approaches for effective case and resource management

interface with community outreach to assimilate additional resources into current service delivery.


Return to

The intent here is to respond to, minimize the impact of, and prevent crises. Desired outcomes of crisis assistance include ensuring immediate emergency and follow-up care is provided so students are able to resume learning without undue delay. Prevention activity outcomes are reflected in measures showing there is a safe and productive environment and that students and their families have the type of attitudes and capacities needed to deal with violence and other threats to safety.